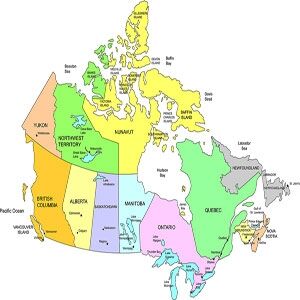 For immigrants from across the globe, Canada remains a very attractive destinations.
Spanning an entire continent, and bordered by the Atlantic Ocean on its east coast and the Pacific Ocean on its west, Canada offers immigrants a diverse choice of regional climates, economies and even languages.
Immigration patterns in Canada have changed in recent years, with an increasing number of immigrants relocating to the nation's more rural and Western areas. Driving a great deal of that immigration has been Canada's booming natural resources industry, and in particular its oil and gas industries that are centered in those regions.
Here are the nation's top five immigration destinations, as well as a little background on each location's defining and unique characteristics based on a 2013 Canadian government report:
5. Manitoba-13,100 immigrants
Largest City: Winnipeg—11,114 immigrants
Winnipeg, by far Manitoba's largest urban center, is located in exactly the center of Canada. Not only is Winnipeg the capital city of the province of Manitoba, it is often considered in Canadian culture as being the capital of Canada's prairie provinces. Not unlike its American neighbors directly south of the province, Manitoba's economy is mostly driven by agriculture.
In addition to farming, perhaps the most defining characteristic of both Winnipeg and the province of Manitoba is its climate. Prairie winters are legendarily harsh, with temperatures dipping below zero for weeks at a time during the winter months; however, Winnipeg is also one of Canada's safest urban centers and has long had a thriving cultural community.
4. British Columbia (BC)—36,210 Immigrants
Largest City: Vancouver—29,506 immigrants
British Columbia (more commonly referred to as BC) is Canada's most western province, bordered by the American states of Alaska to its north and Washington State on its southern border. With only two major population centers, Metropolitan Vancouver and Victoria, the provincial capital, BC's rural economies are mostly driven by natural resources, especially lumber and more recently, natural gas exploration.
Vancouver is a very multicultural city, with a strong Asian presence that has seen high levels of migration from Mainland China and Hong Kong over the last two decades. However, with limited land (the city is bordered by the ocean and mountains) in recent years Vancouver has also evolved into one of the world's most expensive cities, and was recently rated as having the highest cost of living of any North American city, even surpassing New York and San Francisco.
3. Alberta—36.636 immigrants
Largest City: Calgary—17.602 immigrants
With its Western culture, and vast oil resources, Alberta is often referred to as 'Canada's Texas'. Long the center of Canada's energy industry, Calgary—Alberta's largest metropolitan center—is a cosmopolitan city that still retains much of Alberta's unique Western cultural history.
In recent years, the energy boom generated by the oil sands—located in the northern section of the province, near its capital city of Edmonton—has been a strong magnet for immigration. Both skilled and unskilled foreign workers have been in much demand as a result of the energy boom; however, recent steep declines in oil prices have hit the energy industry hard and its unclear what long-term effect that change may have on the province's immigration.
2. Quebec—51.983 immigrants
Largest City—Montreal—43,944 immigrants
Canada's only French-speaking province, Quebec has had a rollercoaster history in terms of immigration. Historically, Montreal—Canada's second largest city—competed with Toronto as the primary destination for immigrants from around the world. That began to change in the 1970s with the rise of Quebec separatism and the prospect of Quebec independence.
More recently, the Quebec separatist movement has subsided—although a sizeable minority of Quebecers still favor the idea—and as a result the province has seen a resurgence in immigration over the last decade. Montreal—without question, Canada's most bilingual city where a majority of people speak both French and English—continues to attract the vast majority of immigrants, from a diverse array of regions including Africa, Europe, Asia and the Caribbean.
1. Ontario—103,494 immigrants
Largest City—Toronto—81,691 immigrants
Ontario is Canada's largest province by population, home to both the country's largest city, Toronto, and the nation's capital city, Ottawa. The province has also historically been the epicenter of Canadian immigration, making Toronto one of the most multicultural cities in the world.
In recent years, there's been a shift in immigration away from Ontario to the western provinces as a result of the energy boom in that region. Still, despite the decline, Ontario remains the most popular destination for immigrants to Canada and—despite having a very high cost of living—Toronto remains the most popular city for immigrants looking to take up permanent residency in Canada.
It remains unclear what impact the dramatic changes in the world's energy sector will have on Canadian immigration. What remains unchanged is that Canada is still one of the most desired—and desirable—destinations for immigrants from around the world.