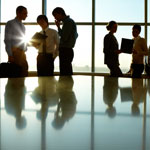 Canada is a country that is welcoming immigrants from all over the world. The government of Canada encourage new immigrants to invest in business. They also welcoming students from other countries. They also invite tourists, who want to visit Canada, especially to see the Canadian side of the Niagara. More and more people are now eager to migrate to Canada as they see it as a great opportunity to further their careers.
On immigrating to Canada you will be given a permanent resident card (PR card). A permanent resident is one who has immigrated to Canada but has not yet become a Canadian citizen. A PR card is given for five years. A student or a temporary foreign worker will not be considered a Permanent resident.
The PR card is the official proof of your status. This plastic card has to be presented by all the permanent residents when they are required to re-enter Canada. Since August 24, 2009, there are some changes in the security features of the PR card and so new residents will get the new card.
People should apply for the new PR card if:
they received the PR status before June 28,2002;
they did not receive a PR card on or after June 28,2002; or
they need to replace an expired, lost or stolen PR card.
If you had a PR card before it was introduced in June 2002 and you still have the PR status, you should apply afresh for a PR card.
1. You should first get an application package and read the guide completely.
2. Complete all the necessary forms and attach the necessary documents. Double check every detail, because if there is any error, the fees will not be refunded.
3. Pay the fees and get the original receipt. Safeguard the receipt.
4. Mail the application form and documents to the center mentioned in the application form.
Follow the instructions in the guide. If any document or information is missing, your application may be delayed or not processed. They will return the form to you requesting more information.
Add the following documents with your application:
Your PR card if it has expired or if the information on it is inaccurate.
A copy of your pass port or travel document. (the photocopies have to be clear)
Send photos as per the specifications or else they will be returned.
Remember to include the Supplementary Identification Form (IMM5455). The application processing fee payable should be in Canadian dollars only. In order to make payments online, you should have a PDF reader, printer and a valid email address. You can pay by credit card too. Print the receipt and include it along with your documents.
The PR card expires every five years, so it is better to check for the expiry date before leaving Canada on travel. PR card holders can also sponsor immediate relatives to Canada. In order to do that they may have fill out the form IMM0008. Those with the PR card can sponsor their spouse and dependent children.
In order to make payments at a financial institution in Canada, you may have to get an original payment receipt Form IMM 5401. You may also order it online or contact the call center. After filling that, take it with you when you go to pay your fees. Finally include the completed payment receipt with your application. Send it to the mailing address specified in the application package.