Warning
: in_array() [
function.in-array
]: Wrong datatype for second argument in
/usr/local/apache/htdocs/immigration-articles/wp-content/plugins/map-categories-to-pages/ListAllPagesFromCategory.php
on line
37
What is a Canadian Study Permit?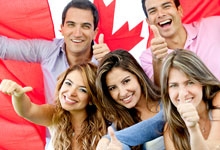 A study permit is an official document granted by the Canadian government to a non Canadian citizen. This study permit allows the foreign national to attend university or school in Canada. It allows the holder to remain in Canada for its duration and it is granted for a period of one year to 4 years and its duration depends on the granting institution. Canada allows more than 90,000 students, every year to come and study in Canada. Most of them learn English or French. Canada also says that the foreign students bring forward a rich culture and so Canada welcomes a large number of skilled students to its classrooms.
A foreign national who intends to study in Canada must apply for a study permit or a temporary resident visa. The person who wishes to study in Canada must choose a recognized school or university in Canada and must have been accepted by the selected school or university. The selected student must establish that he has enough funds to support himself in Canada and he must be capable of paying his tuition fees and meeting his own expenses. Canada welcomes only law-abiding individuals and at no cost a person with criminal records will be allowed to enter Canada. You may be required to provide a police certificate to establish that you do not have criminal records. Before applying for a study permit, you must complete a medical examination. You may not be granted a study permit, if you do not prove that you will leave Canada, at the end of your authorized stay.
There are certain cases where a foreign national may be allowed to study in Canada, without obtaining a study permit. A person who wishes to take a short course, that lasts for six months or less, in Canada may not require a study permit. Even if a study permit is not required for a short term course, it is good to apply for a study permit before you enter Canada. It will help you to continue your studies in Canada, if you wish to do so, at the end of your short term course. You may not require a study permit, if you are an eligible dependent of a foreign representative in Canada. Similarly, if you are a member of a foreign armed force, you may not require a study permit, to study in Canada, under the Visiting Forces Act.
You can apply for a study permit to study in Canada, through a Canadian Embassy or Consulate, in your home country. Citizens of certain designated countries may at times be required to obtain a temporary resident visa along with a study permit. The visa officer will process both the petitions at the same time and you may not be required to submit separate petitions. You must submit certain supporting documents, such as proof of acceptance from the school or university, proof of your identity such as a passport or a travel document, along with your application. You must also submit proof of financial support, while applying for a study permit. If you wish to study in a Canadian province such as Quebec, you must receive a certificate of acceptance before you could apply for a study permit.
After entering Canada with a study permit, you will be allowed to renew your permit if you wish to continue your studies. But you must apply to renew your study permit before it could expire. You may not be able to remain in Canada if your permit expires.