Warning
: in_array() [
function.in-array
]: Wrong datatype for second argument in
/usr/local/apache/htdocs/immigration-articles/wp-content/plugins/map-categories-to-pages/ListAllPagesFromCategory.php
on line
37
How to Become a Permanent Resident of Canada by Starting a Business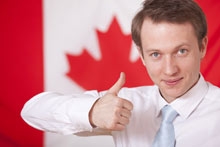 Citizenship and Immigration Canada, offers Business Immigration Program which attracts foreign investors, entrepreneurs and self-employed persons. This is a program which attracts business people to Canada, who may support and strengthen the economy of Canada. Foreign nationals who immigrate to Canada based on business immigration are expected to invest around C$800,000, in Canada.
In order obtain an immigrant visa and to own or run a business in Canada, there are certain requirements to be met by the foreign investors and entrepreneurs. The criteria for the three different categories of immigrants are different. Hence while you seek to become a permanent resident of Canada based on business immigration, choose your particular category and file an application in that particular category as the category cannot be changed once you file an application and the criteria for each category is different.
Investors
The Immigrant Investor Program offered by CIC, looks for knowledgeable foreign business people who are capable of investing C$800,000 in Canada. Such investors may become permanent residents of Canada. In order to become permanent residents, the investors must establish that they have good experience in business. They must also prove that the investment capital was obtained through lawful means and must be able to invest C$800,000. The investment made by eligible foreign nationals will be managed by CIC and it will use the investment to create jobs in Canada, which will lead to the growth of the Canadian economy.
If you have the required experience and if you wish to become a permanent resident of Canada, you must make the investment before CIC grants you an immigrant visa. You can follow the instructions sent by the visa office and finish the process in around 30 days. The investment that you had made in Canada will be returned to you, by the CIC, in around five years without interest.
Entrepreneur
The purpose of the Immigrant Entrepreneur Program is to welcome well-experienced entrepreneurs who will own and administer commercial enterprises in Canada. Such businesses must contribute to the Canadian economy, thereby creating new jobs in Canada. If your application for an entrepreneur program is approved, CIC will grant you a permanent resident visa.
Self-employed
A foreign national who is capable of becoming self-employed in Canada, may file an application for an immigrant visa through the Self-Employed Persons Program. In order to become eligible to immigrate to Canada through this program, self-employed persons must have qualifying experience that is likely to contribute to the culture of Canada. Self-employed persons may also become eligible if they have experience in farm management and if they are capable of purchasing and managing farms in Canada. CIC will come to a decision and will provide you a permanent resident visa, after your application is approved.