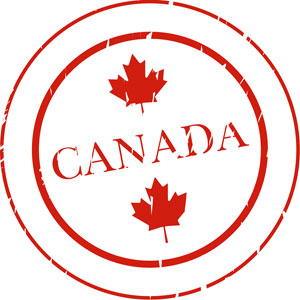 When you first come to Canada you may experience a certain level of anxiety and stress from being in a foreign place. This is called culture shock and is a very natural reaction to a major move. It can become worse when confronted with the frustrating process of adjusting to your new surroundings.
Fortunately, the government of Canada is very much interested in making sure that you adjust well to your new home. An important thing to understand about Canada is that it is one of the only countries in the world that actively supports the concept of multiculturalism. In a multicultural society every social group is allowed to operate independently, but at the same time form a greater group, the country itself.
Take for comparison a fruit salad: each fruit has its own particular flavor and texture and is distinctly "itself", but all of the fruits combined into the same bowl make something greater.
Information for Newcomers
Generally there are two different ways for people to enter Canada. One way is through non-immigrant visas such as for work or for study. The other is through permanent residency which is accomplished either through employment, family or asylum.
People who enter Canada with non-immigrant visas can look into becoming permanent residents through certain immigration programs such as the Federal Skilled Trades Program or the Canadian Experience Class program.
There are some things that need to be immediately addressed upon your entry to Canada.
Becoming a Citizen
After a period of time as a permanent Resident in Canada you will have the opportunity to become a citizen. Many of the things that you will need to do to become a citizen will happen as if through osmosis, meaning that you will absorb it through experience.
Service Canada provides a Citizenship program where you can prepare for becoming a citizen which will include:
Learning about how the government works (discussed briefly below), Canadian history and culture;

And learning proficiency in one of the official languages of Canada. Part of the citizenship test will be assessing your knowledge of either English or French.
Fortunately, children of Canadian citizens (or parents who are currently applying to become citizens) who are also under 18 years of age only need to be permanent residents to become citizens.
Permanent residents between the ages of 14-64 must take the tests and must have lived in Canada for four years out of the past six years.
How the Government Works
Knowing how the Canadian government works is essential for becoming a citizen, but it is also very important when one lives in Canada.
The Federal government is divided into three parts generally referred to as the Parliament, the Crown and the judiciary.
The head of the government is the Queen. Hers is the supreme authority of the land though she appoints a governor general to represent her in Canada. Activity of the rest of the government is passed by the crown for assent, which effectively makes it into law.
The Parliament is composed of two houses called the Senate and the House of Commons. The Senate is composed of representatives appointed to their positions by the governor general. When selecting appointees, the governor general normally follows the advice of the Prime minister.
The House of Commons is the popularly elected segment of the legislature, meaning that citizens of Canada select these people (called MPs or Members of Parliament) by voting in elections. There are several political parties in Canada and if one of these holds more than 50% of seats in Parliament a majority government are formed and a leader is selected from this party. That leader is the Prime Minister. If one of the parties has a majority of seats, but less than 50%, then a minority government is formed. These are usually very unstable and do not last long before another election occurs.
The judiciary of Canada is composed of multiple layers of courts from the provincial level to the federal level. Federal courts are responsible for criminal law and provincial courts are responsible for civil law. Federal courts only decide cases with national impact.
Education and Careers
Canada has some of the best universities in the world and permanent residents are free to study anywhere in Canada provided that they are accepted by the institution. Learn more about the Canadian education system and how you can finance it through the Canadian government! Foreign citizens who are not permanent residents can also look into getting a study permit.
School can of course help you get into the career that is best for you, but Canada can also help you find your career today. If a job is all you're looking for at the moment, there are many available throughout the exciting and strong Canadian economy.
Canada - A land of opportunity
Canada is often referred to as the land of immigrants because of its long history of immigrant settlers. The country is also very aware of the important role in society, culture and economy that immigrants play, which makes Canada one of the best places in the world to immigrate.