IMMIGRATION QUESTIONS
RESOURCES
Replace or Renew a Permanent Resident Card (PR Card)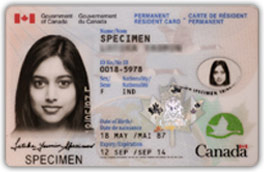 Prepare and complete your application for PR Card renewal today! Complete your application quickly and correctly with our easy-to-use Form NavigatorTM technology.
Who is Eligible for a PR Card Renewal?
Individuals eligible to apply for Permanent Resident Card renewal must be permanent residents within Canada who would like to apply for:
an initial (first) PR Card
renewal of a PR Card that has or will soon expire or
replacement of a PR Card that has been lost, stolen or damaged.
Eligibility Criteria for a Permanent Resident Card:
The applicant
must be a permanent resident of Canada
must be physically present in Canada
should not be under an effective removal order
should not be a Canadian citizen or a registered Indian under the Indian Act, and
should not be convicted of an offense related to the misuse of a Permanent Resident Card.
How to Apply for a PR Card Renewal
The application process to renew a PR Card for Canada requires individuals to file form IMM 5444 and submit the required documents in order to replace the card that has expired or will soon expire. Lost, stolen, destroyed or expired immigration documents issued by the Government of Canada can be replaced. To have a PR Card renewed, individuals must complete an application and pay the applicable processing fee.
There is no need to contact the CIC if your card has expired (or is due to expire).
Documents required with your application:
Your Permanent Resident Card (if your card has expired). If it is due to expire, you can keep it with you and return it to the CIC officer at a local CIC office when you go to collect your new card.
A copy of your valid passport or travel document, or a copy of the passport or travel document you held at the time you became a permanent resident. Please note that if photocopies are not clear, your application will be returned to you.
Photos. Consult the Photo Specifications Appendix in the guide for more information. If your photos do not meet the requirements, they will not be accepted.
Any other identity documents specified in the Document Checklist (which will be part of the application kit).
Remember to include the Supplementary Identification Form (IMM 5455).
What Are the Steps in the PR Card Renewal Process?
Complete

your application quickly and accurately, with our easy-to-use Form NavigatorTM technology.

Pay

the government filing fee online.
Gather your supporting documents and

submit

them with your application to CIC.
Upon approval of your application, report to the local CIC office to

collect your card

.